A crossroads for millennia, Jordan has faced endless waves of invaders, from ancient Romans to Ottomans and European crusaders. In their wake, these empires have left ornate churches, crusader castles and desert citadels, as well as the lost city of Petra. Our specialists return, time and again, to find the best ways to explore this timeless land. We can help you get away from the crowds at Petra, hike through the wind-carved wadis (valleys) of the Dana Nature Reserve, camp out under the desert stars or sip coffee with Bedouins.
Despite its turbulent history, Jordan today is a safe, stable country that's easy to navigate, making a holiday in Jordan a good introduction to the Middle East. The country offers you natural wonders, too, including the salt-crusted shores of the Dead Sea, coral reefs in the Gulf of Aqaba, and the Wadi Rum desert, where monumental rock formations tower over deep-red sands.
Creating tailor-made tours for over 25 years
Excellent
TrustScore

4.9 | 2995 reviews


Suggested tours for Jordan
These tours give you a starting point for what your holiday to Jordan could entail. Treat them as inspiration, as each trip is created uniquely for you.
Suggested activities for Jordan
Whatever your interests, our specialists will build activities into your trip that connect to how you want to experience Jordan.
Jeep Tour of Seven Sights of Wadi Rum

Jeep Tour of Seven Sights of Wadi Rum

Wadi Rum

Jeep Tour of Seven Sights of Wadi Rum

This tour takes in seven of the sights of Wadi Rum, and is a detailed exploration of the deeper recesses of the wadi.

Visit Pharaoh's Island

Visit Pharaoh's Island

Aqaba

Visit Pharaoh's Island

Swim and snorkel around Pharaoh's Island before enjoying a delightful barbecue.

Petra City Tour

Petra City Tour

The tour begins with the walk down from the site entrance to the beginning of the Siq. This path is flanked with typical rock-cut tombs that are a very small precursor of the drama to come. The most impressive of these preliminary tombs is the Obelisk tomb.
Why travel with Audley?
100% tailor-made tours
Fully protected travel
Established for over 25 years
98% of our clients would recommend us
Best time to visit
Our specialists advise on the best months to visit Jordan, including information about climate, events and festivals.
Request a brochure
Our detailed brochures feature trip ideas and travel experiences recommended by our specialists.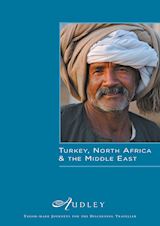 Useful information for planning your holiday in Jordan
Timezone
UTC +2 to UTC +3

Flight time
5¼ hours (Amman)

Recommended airlines
British Airways, Turkish Airlines
Arabic is the official language of Jordan. Jordanian Arabic is quite close to Egyptian Arabic, which is the most widely understood. Most other Jordanians will be able to communicate effectively in English — the exception being some of the Bedouins in places like Wadi Rum.

Jordanian food is typically Arabian in style with the Lebanese influence dominating in particular as well as one or two traditional local dishes. The most common form of meal starts with mezze (mixed starters, predominantly non-meat dishes) followed by hot, meat-based dishes, all accompanied by lots of delicious, fresh-baked flat bread. For a quick snack, you should try shwarma. This is thinly sliced compacted meat (normally lamb, sometimes chicken) shaved into a flat bread pocket and garnished with a garlic sauce before being wrapped tightly for easy eating.

As well as traditional Arabic coffee, tea and fruit juice, Jordan also produces its own wines, the best of which are pretty decent, and brews a couple of beers under licence, the most common being Amstel. The local spirit is araq, a triple-distilled vine alcohol flavoured with aniseed.

Tipping is an accepted part of life in Jordan and will be expected by drivers, guides and other people who look after you or offer you some service during your trip. That having been said there is not the same request for tips at every turn that you encounter in some of the other countries of the region. In upmarket restaurants a tip of 10% is normally expected, whilst in smaller and cheaper establishments anything from 500 fils — JD 1 is about right.

Ultimately, these suggestions are nothing more than guidelines and tipping is discretionary, but it is also an accepted part of culture.

Jordan's currency is the Jordanian Dinar (JD). There are 1000 fils in a dinar, and there is an informal denomination of a piastre which is 10 fils. Credit cards are widely accepted, although in remote rural areas and the desert you might struggle with them. There are ATMs in all towns and cities of any size.

Whilst Jordan is a Muslim country, it is one of the more secular ones in the Middle East but it is still important to respect Muslim social customs. Dress does not have to be as conservative as in some countries in the region, but care should still be taken. As a general rule you should dress more conservatively in the towns and cities than on days when you are sightseeing away from urban areas. For these days, both sexes can wear shorts and t-shirts weather-permitting, although keeping the shoulders covered is sensible for reasons of sunburn as much as respect for local customs.

Do not photograph anything to do with the military or government buildings — also avoid photographing bridges and canals or anything that could be construed as having strategic significance. Ask people if they mind before photographing them.

During Ramadan do not eat, drink or smoke in public.
Our expert guides to travelling in Jordan
Written by our specialists from the viewpoint of their own travels, these guides will help you decide on the shape of your own trip to Jordan. Aiming to inspire and inform, we share our recommendations for how to appreciate Jordan at its best.
My travels in Jordan 2018

Your trip to Jordan could involve the monumental tombs of Petra, the sere desert landscapes of Wadi Rum and a visit to the cosmopolitan capital city of Amman. Get inspired by footage from Nick's recent visit.

Family holidays in Jordan

Family holidays in Jordan

Family holidays in Jordan

If you're planning a tailor-made family holiday in Jordan, why not release your inner Indiana Jones on a trip to Petra, where 'Indiana Jones and the Last Crusade' was filmed?

The King's Highway in Jordan

The King's Highway in Jordan

The King's Highway in Jordan

Travelling the King's Highway in Jordan means seeing 5,000 years of history. Visit sites of the Holy Land, the churches at Madaba and Mount Nebo, the castles of Kerak and Shawbak, as well as the ancient city of Petra.

Explore the mysteries of Petra

Explore the mysteries of Petra

Explore the mysteries of Petra

A hidden city that's carved into sandstone cliffs, Petra was one of the wonders of the ancient world. Jordan specialist Nick offers a guide to the history and important sites in this vast city.

Amman for more than one night

Amman for more than one night

Amman for more than one night

Jordan's capital city is much more than just a rest stop on your way to the country's many ancient sites. It invites you to explore the Roman amphitheatre, take a cooking class in a family kitchen and see the oldest known human statues.

Jordan and Egypt: Petra to Giza and Luxor

Jordan and Egypt: Petra to Giza and Luxor

Jordan and Egypt: Petra to Giza and Luxor

In the sunbaked desert of Egypt and a hidden wadi in Jordan, ancient empires built enormous stone edifices that still stand thousands of years later. Middle East specialist Albert discusses the best way to see both countries on one trip.

Travel guide to Jerusalem

Travel guide to Jerusalem

Travel guide to Jerusalem

Easily combinable with an itinerary to Jordan, and fascinating enough to merit a trip in its own right, the enthralling sights and monuments of Jerusalem are certain to charm you. History has never seemed so alive.

How to pack for the Middle East

How to pack for the Middle East

How to pack for the Middle East

First-time visitors can find it tricky to pack for the Middle East. Specialist and one-time resident Talia offers packing advice for handling the dramatic swings in temperature, the wide variety of terrains and the conservative culture.